Comic Bento Sample Box review
*This post contains affiliate links to
Comic Bento
*
A few weeks ago I received a special package from an affiliate called
Comic Bento
, it a subscription box like Loot Crate, but it contains comics. Each month they comes with a theme. Becoming an affiliate with them I got a sample on what kind of comic books that have had in there boxes. This great to add to my growing collection of comic books, for someone who is new at it, but I do have a lot of manga. I have been meaning to do this post for a while but I have been a little busy.
I would show you the box that it came in but, I have a dog whose favorite toys is boxes. So she had gotten to it first, and stopped at the packing peanuts. I promised the box after I got the comics out and empty it of packing peanuts.
The Ticking
The Ticking was quite usual comic. It's about this boy named Edison Steelhead, he has a deformed face that his father keeps hidden from the world.
The pages contain up to two panels per page. Though quite unusual looking, I couldn't help but continue to read it because I wanted to know what happened in the end.
Shadowman [Birth Rites]
I liked this one in particular, because it is more superhero like with a twist of dark magic.
It is the sequel to the original Shadowman Series. It focuses on a young man named Jack Boniface whose past is unknown to him, particularly the past of his parents. After throwing away an amulet protecting him from his past, it comes back to haunt him as the Shadowman; a mysterious entity that takes over his body and transform him into hero with the powers of the underworld.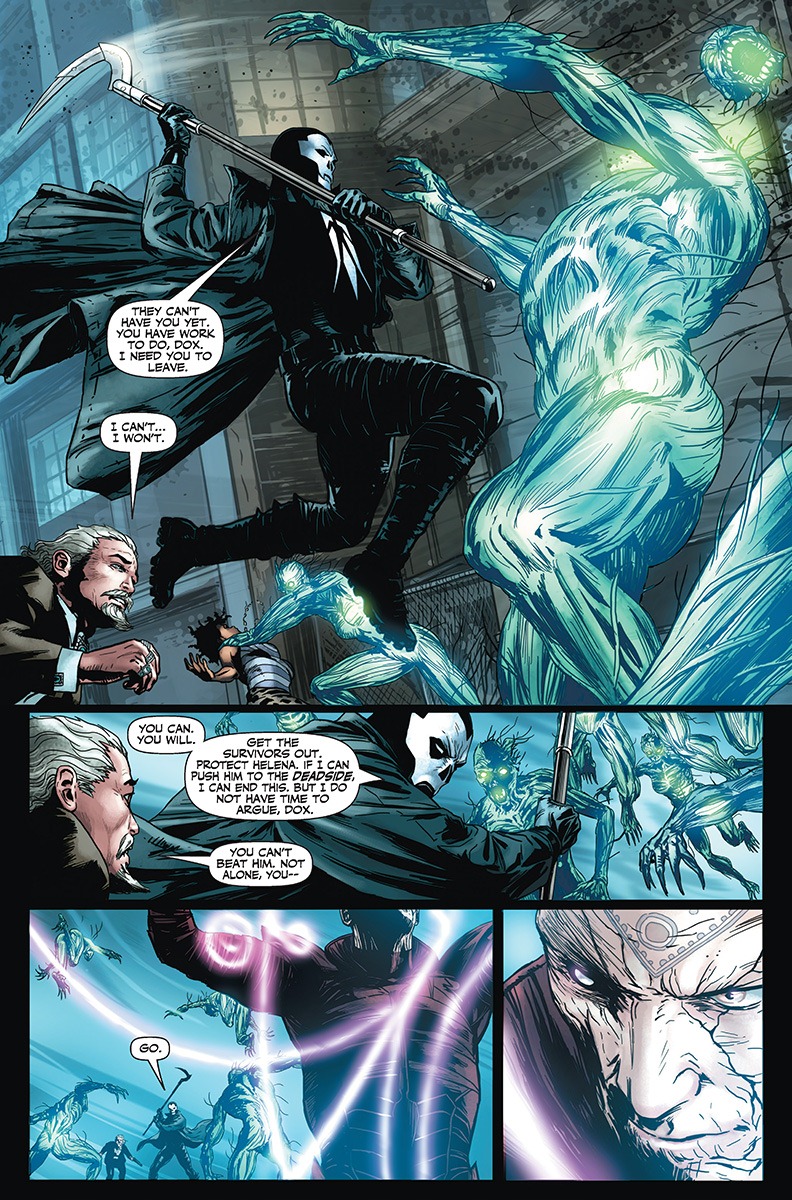 All of this takes place in New Orleans which comes as no surprise for it being the place where supernatural things happen. The colors to the book are vibrant as well as dark. The writing is good enough that you can almost hear the voices of the characters as you read it.
Virga
This comic is based on the Virga series by Karl Schroeder. In this book gravity is a product that made and every city struggles get their taking control of gravity themselves.
The art is a bit different than others that I have read, but every artist is different. It is designed in a style similar steampunk but more castle in the sky look.
Beyond the Wall is a one volume series that takes place during the Roman occupation of Britain in the third Century A.D.
The art is amazing, and the story is good on where it takes place at a moment in history where one brother kills the other for a bigger claim of power, leaving a centurion to defend for himself and one other as run for being accused for the murder. You got read it to see it. It also has mythological creatures in it as well.
Noir Et Blanc is the Black and white collection of an web comic called the Least I Could Do. It is a redrawing, of the original comic that premiered on the web comic.This comic is interesting but one thing I did find distracting is the commentary, because it took up as much space the comics. It is interesting to see the changes of the artist's work.
__________________________________________________________________________________
The sign up for a
Comic Bento
boxes is before the 15th of the month to get the current month's box. After the 15th next month will be your box. They offer one month, 3 month and 6 month plans, and hold up $40-50 worth of books. So get your boxes quickly
here
!
Unfortunately they only current ship to North America, but are looking to expand beyond these borders.
So what caught my interest in Comic Bento?
The name of course.
When I looked up
Comic Bento
it got my attention even more with their motto "A box of comics in your mailbox every month!" Who wouldn't find that motto interesting?
Is Comic Bento Worth it?
I'd say so! Though I may just have a sample box of comics from previous themes, it would be nice to open one with a theme and open to find a surprise of new comics each month.
I know that there are alot of comic book lovers out there. So if you are willing to try something different each month try
Comic Bento
.